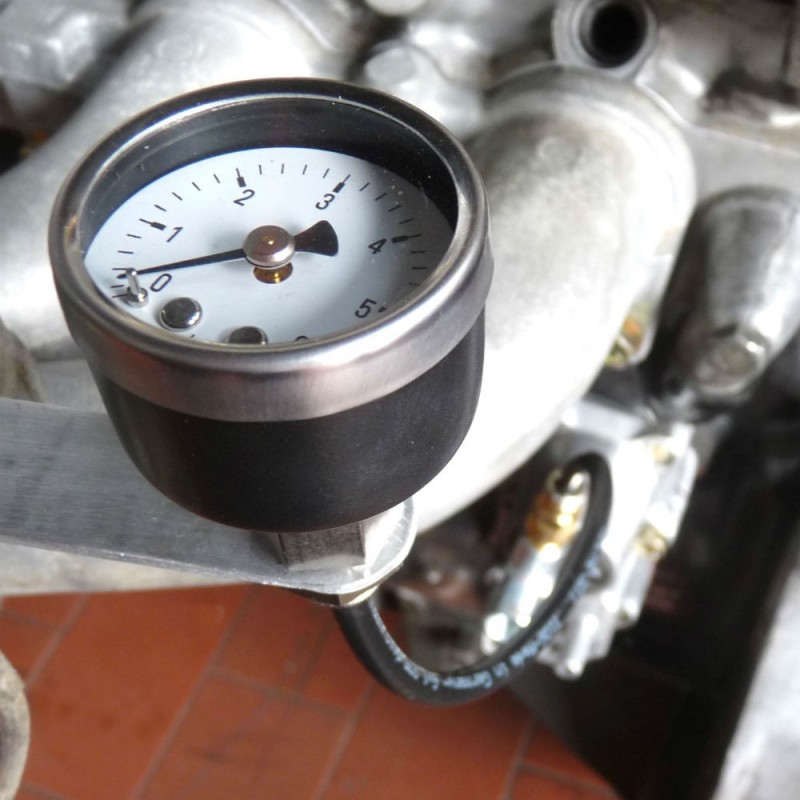  
K-Jetronic Control Pressure Gauge
4 - 5 Weeks;
shipping excl
.
Delivery time 2 - 3 working days; wiring harness 20 working days (production lead time)


- Suitable for all K-Jetronic injection systems


- Best quality of all components


Does your vehicle start poorly when it is cold, has poor idling, or suffers from lean bucking? Very often the control pressure of your Bosch warm-up regulator is incorrect. In particular vehicles that are rarely driven suffer from incorrect control pressure. To keep an eye on this at all times, we offer a control pressure gauge for permanent installation in the engine compartment.
This kit can be installed in all vehicles with K-Jetronic. The connection is made at the pressure input of the warm-up regulator using a banjo bolt. An 80 cm long hose is included to realize a high variety of positions. Two versions of the 40 mm gauge are available: Version #1 has a rear connection. This allows a 'laying' position in the engine compartment. Variant #2 has a bottom connection. This gauge can be installed in an upright position eg. on the fire wall.


If your vehicle has ring connections on the warm-up regulator input (e. g. various Porsche models), you will also need a matching double banjo bolt.


Content:
1 x banjo bolt with seals and PU hose adaptor
1 x 80 cm PA hose
1 x gauge adaptor
1 x 40 mm gauge (Vers #1 rear connection; Vers #2 bottom connection)
1 x stainless steel bracket
Data sheet
model

MB R107
MB W123
MB W126
MB W460/ W461
Customers who bought this product also bought: